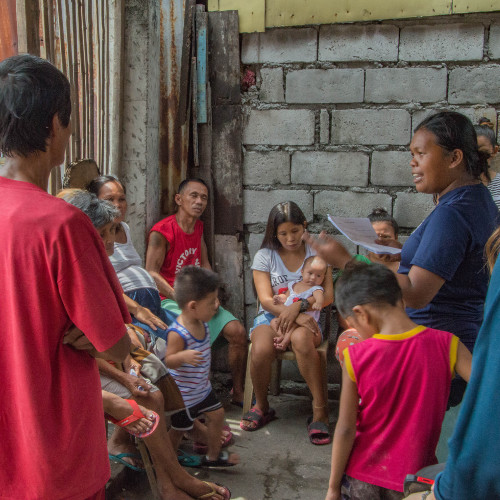 Since inception, ATE Co's mission has been to provide quality, affordable and sustainable solutions to vulnerable communities; to reduce energy inequalities and enhance peoples' lives.
High quality products with flexible, affordable and accessible payments, community support, capacity building and field assessment/prospection are the four pillars on which ATE Co structures daily activities to fulfill its mission.
ATE Co – Access to Energy for Communities – was created by the French INGO, Entrepreneurs du Monde (EdM), in 2015 as part of a global strategy. After decades  providing microfinance in vulnerable, informal settlements, EdM realised the increasing energy crisis its beneficiaries were facing.
In the dense, urban setting of Manila's vulnerable areas of intense poverty, many households have either no access or unreliable access to the electricity grid. Because of their lack of income, or incapacity to fulfill the electricity supplier legal requirements, most households are dangerously and illegally connected to the grid.  They experience high electricity costs, frequent and increased risk of fire. They often have no choice but to use candles, kerosene and other hazardous materials as fuel  for their main lighting system or as aback up in case of brownouts or disconnection.
The program began in the most vulnerable areas of Tondo, Metro Manila. In 2015 a baseline study was conducted to better understand household energy needs and interests, and what they could afford knowing their irregular and unreliable income. This baseline led to the first pilot; households could rent a battery and a lightbulb for 15 pesos per day. ATE Co field officers were present daily in the vulnerable communities to collect payment and change the customer's empty battery for a fully-charged one. Households then had light for the following 24 hours.
After a few months of operations in the community of Isla Puting Bato (IPB), where shelters are built illegally on the edge of a commercial shipping port, many over the sea, we realised the model had shown limits, both with the logistics and the rental system. However, this initial distribution model demonstrated that reaching the most vulnerable through daily, flexible payment schemes was possible. As a result, a new version of energy solution distribution was implemented, changing from a day-to-day battery swap to daily fees with the actual installation of basic solar kits in each house. This new model was first piloted in the community of "Smokey Mountain", a former dump site where thousands of people make their living from picking rubbish through the landfill. ATE Co began a simple model of rent-to-own based on a very small daily payment which enabled individuals who could not afford the solar kit upfront, to eventually become owners, enjoying free, safe renewable energy. The new product – the solar kit "Sun King Home 60" – paired with a new system called Pay-As-You-Go (the first in the Philippines), allowed customers to pre-pay small amounts equivalent to a day of energy, without going into debt. Once a household subscribed to the service, the family benefitted from regular home cash collection from a field officer, assistance for maintenance and after sales services, as well as training on small troubleshooting.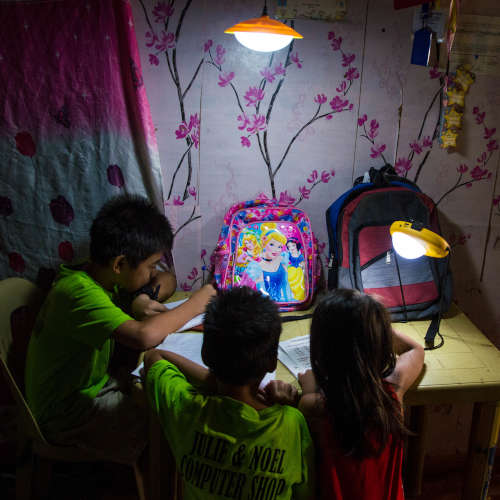 Proximity to the community is key for the success of ATE CO's project. Community and customers have always been the top priority, and  to facilitate this in the new model, collaboration with an Area Field Officer (AFO) – people living within the communities, to help in various tasks on the ground – was developed. Thanks to close customer relationships, ATE Co has been able to develop an in-depth understanding of both the energy needs among vulnerable Filipino households, and a way to mitigate them.
From initial urban project, ATE Co envisions project expansion in the countryside of the Philippines in the coming months and years.
ATE Co continues to innovate, guided by the long-term vision to enhance "equal access to sustainable energy, lighting up all communities.  The solar energy rent-to-own service is now being deployed with key accounts: any individual or organization willing to support powering a community can become an ATE Co partner.  Finally, the exciting development of smart grid technology for unelectrified areas has begun, with big plans of expansion to follow.